Winners The Tulip promotion are known!
2018-08-07
---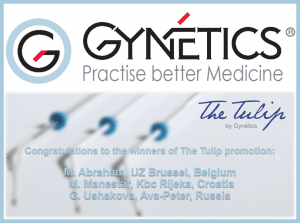 Congratulations to all the prize winners!
M. Abraham, UZ Brussel, Belgium is the winner of the Ultimate Gynétics Tulip Experience 2019
She will receive a completely arranged two-day stay in the Dutch capital Amsterdam and visit the world famous Tulip gardens 'Keukenhof' in Lisse.
The winners of an ESHRE 2019 Scientific Badge are:
M. Manestar, Kbc Rijeka, Croatia
G. Ushakova, Ava-Peter, Russia
We are already looking forward to next years' ESHRE congress in Vienna. See you there!